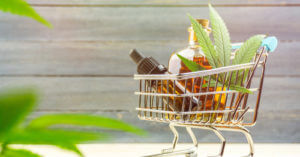 There are so many different types of CBD products available in the market. To understand better its properties, we can broadly divide CBD products into two; full-spectrum and isolate CBD. Full-spectrum CBD is made using the whole hemp plant, that is, the manufacturers will use the leaves, flower, and stem of the plant to extract CBD. On the other hand, CBD isolate is made using the leaves and flowers of the plant. As the complete plant is used to make full-spectrum CBD, it will have so many elements other than CBD. In this article, we will discuss the different elements present in full-spectrum CBD extracts.
Linalool
It is a type of terpene found in the hemp plant. This is the same terpene that can be found in the lavender plants and give it a relaxing aroma. This terpene is responsible for the rich fragrance of lavender flowers. Even if the linalool is present in a high quantity in the hemp plant, its fragrance is blocked by the presence of other compounds and terpenes. However, the presence of this terpene makes full-spectrum CBD a good product for aromatherapy.
Myrcene
It is one of the major components present in the full spectrum CBD that gives the original aroma. Myrcene is also present in many fruits including mangoes and bananas. Even if it is not having any medicinal qualities on its own, it is good at removing inflammation and stress when mixed with CBD. However, the benefits of this compound cannot be experienced by the users if they are having CBD orally.
THC
THC is one of the active cannabinoids present in the marijuana plant. Most of the regulatory authorities have restricted the use of cannabis plants in making CBD due to the presence of this element. THC is having so many medicinal qualities, but if a person is having this compound more than a limit, it can give them a high. Most of the full spectrum CBD products will be having a negligible percentage of THC that can help in improving the effectiveness of CBD.
The above mentioned are some of the compounds that are present in full-spectrum CBD products available in the market. Since it is made by processing the whole plant, it will also have many nutrients, vitamins, and minerals.