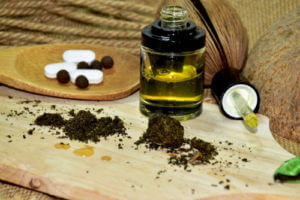 Marijuana dispensaries do not accept credit card purchases. With some exceptions, most marijuana dispensaries do not accept debit card transactions, either. Why? Because top credit card issuers ban business enterprises from processing cannabis transactions with just their cards.
Web-based payment processors also do not allow the use of their online services to help pay for any cannabis product. To remain in business, online cannabidiol retailers and dispensaries are beginning to accept crypto for CBD as a payment option. Besides check and cash, it is the lone option available.
Cannabidiol Is Not Intoxicating, So What Is The Issue Here?
Cannabidiol is an industrial hemp and marijuana compound with no mind-altering effect. People may use the terms marijuana and cannabis interchangeably, but those are not always the same. The term 'cannabis' refers to a plant species, whereas marijuana and industrial hemp are separate cannabis strains.
Unlike marijuana, hemp is low in THC. Selling CBD goods with only up to 0.3% tetrahydrocannabinol is legal at a federal level, which causes the payment situation to be more frustrating.
It Is All About Shunning Liability
Payment processing businesses will not process cannabis-related payments due to the possibility of liability associated with it. The Farm Bill of 2018 may have legalized hemp CBD, but no regulation forces producers to adhere to the requirements. Stiff penalties are there for producers of high THC CBD goods, but the cannabidiol industry is mostly unregulated.
With it being unregulated, web-based payment processors and credit card issuers might be named in lawsuits in the event of processing payments for some illegal goods. The other issue is that only some states allow the trade of marijuana through dispensaries. Marijuana is still not a legal substance at a federal level. Cannabidiol and marijuana tend to be sold at the same shop, so those top companies wish to avoid risking processing payment for something that comes under the Controlled Substances list.
The Issue With Accepting Crypto Payments
Cryptocurrency appears to be a good payment option for cannabidiol businesses. First of all, the cryptocurrency for CBD option results in transactions with some level of anonymity. Anyhow, there exists a downside to accepting crypto that causes running a cannabidiol business to be a more expensive and complicated task: Cryptocurrency taxes.
It is not easy to accept cryptocurrencies such as Bitcoin as it has an unpleasant consequence. A crypto transaction is taxable, in the form of both business income and capital gain. That drives up the cost in conducting business as well as causes record-keeping to be a tedious task.