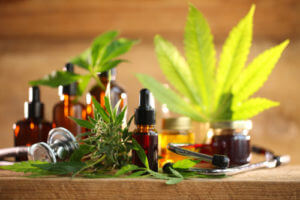 The market for CBD products is growing every day, with their medical benefits becoming increasingly popular. CBD is one of the 113 cannabinoids that can be extracted from cannabis plants, and the hemp plant of the cannabis family has CBD as its major content. The CBD products that we get in the market are made from hemp plants, and they enjoy a legal status in the US because they contain only about 0.3% THC, which is an intoxicating compound capable of giving a high.
There are three different spectrum options available to a person looking for a CBD product, and the choice should be made after learning about all the available options. The spectrum options are CBD isolates, broad-spectrum, and full-spectrum CBD.
Full-Spectrum CBD
Full-spectrum CBD has all the inherent phytochemicals contained in the hemp plant like CBD, terpenes, trace cannabinoids, and oils. The combination of all the plant compounds produces an entourage effect that helps to maximize the health benefits offered by the cannabinoids. There is the presence of THC in full-spectrum CBD but it makes up just 0.3% of the product.
There is no need to worry about full-spectrum CBD giving you a high or inducing a negative psychoactive effect. But the possibility of full-spectrum CBD usage giving a false-positive result in a drug test still exists. People who have to take drug tests as part of their work-life have to be cautious about choosing full-spectrum CBD. They can better choose broad-spectrum CBD over a full-spectrum product.
Broad-Spectrum CBD
Broad-spectrum CBD contains all the plant compounds like cannabidiol and many more, but there is zero presence of THC in it. Soon after the initial extraction step, THC is removed from the extract making sure that no THC traces are left back in it.
The presence of multiple compounds and their collaborative action produces an entourage effect, and since broad-spectrum CBD has all the hemp compounds except THC, it can still generate an entourage effect.
CBD Isolate
If a pure cannabidiol product is what you are looking for, then going with CBD isolates is the right choice you can make. About 99% of CBD isolate is cannabidiol, which contributes to its purity and alleviates worries of a failed drug test.
Since the CBD is the exclusive content CBD isolate, its use does not produce an entourage effect.
CBD products are quite famous in the US markets and many businesses have entered the market hoping to reap benefits from the growing demand. It is the discretion of the consumers to choose one product from the multitude of product options that the market offers.