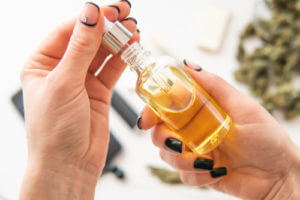 With the US Farm Act of 2018 hemp cultivation for medical purposes was legalised on a federal level and also cannabidiol (CBD) derived from it was removed from the list of schedule I drugs. This is because of cannabidiol's therapeutic and medical benefits which is useful in the treatment of many diseases. As a result, the market for products made from it is growing and the most popular one among them is CBD oil due to the versatility in its usage. Here we will try to understand the difference between pure CBD oiland raw CBD oil.
Pure CBD Oil
Pure CBD oil is rich in cannabidiol concentration and it is made using the flowers, leaves and stalk of the hemp plant. Because of this, it is higher priced than raw CBD oil and tastes better when consumed alone. It is extracted using a solvent which is later evaporated to get high CBD concentration of the oil. The marker of the purity of the product is that there won't be any residue of the solvent after evaporation. It is produced by two step processes, they are: winterization and short path distillation.
In the first step i.e. winterization process, the raw extract that you get after the extraction process is mixed with a strong alcohol and frozen overnight. This is passed through the Buchner Funnel which is a filter and into an extraction jar. This is then heated so that the alcohol evaporates and you get the yellow or gold coloured nutty tasting pure CBD oil. This process removes unwanted fats, lipids, terpenes and plant compounds from the oil so that it tastes better. In the next stage i.e. short path distillation, the extracted oil is further heated and the compounds contained in it are separated according to their rate of boiling to be used individually.
Raw CBD Oil
Raw CBD oil is made using the CO2 extraction process and here, instead of solvents, supercritical carbon dioxide is used for extraction. The advantage of this method is that the final product i.e. CBD oil will have no toxic residue because CO2 is used. As there is no further filtration, there will be terpenes, fats and lipids found naturally in the hemp plant. Besides, due to the small amounts of chlorophyll, it will have a bitter taste. This is more suitable for common or regular use and slightly less expensive compared to pure CBD oil.
So, when you are purchasing CBD oil for ailments, keeping the aforementioned details in mind will be helpful as pure CBD oil is more suitable for chronic conditions like pain, while raw CBD oil is good for common ailments.