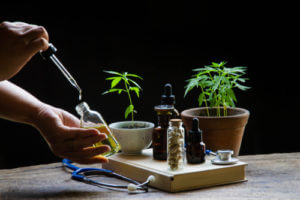 Cannabidiol or CBD is a huge business. Extracted from the hemp plant, CBD will not get you high. The non-intoxicating nature of CBD means that the manufacturers can come up with a variety of CBD products if they are extracted from industrial hemp strains that have lower than 0.3% THC. The primary attraction to CBD products is the therapeutic benefits that they can offer. CBD can help with issues like anxiety, chronic pain, and sleep issues.
Out of the different variants of CBD available in the markets, CBD oil is the most favored one. Recently, many CBD manufacturers are coming up with CBD water. CBD is water-repelling (hydrophobic) by its chemical nature and will not dissolve in water. However, manufacturers are claiming that using a process called nanoemulsion, can suspend cannabidiol in water and this can help increase the absorption rate of CBD.
Are these claims true, or is nano CBD water just another fancy marketing term? Let us see.
What Is CBD Water? 
Most of the manufacturers of CBD water are making it using a process called nanotechnology, which breaks down the cannabidiol into small molecules. This means that more of the intestinal lining in the body will be exposed and can result in a high level of bioavailability. Nanomaterials are very small measuring one-millionth of a meter. CBD in nanometer size can efficiently get through the body. CBD water can be an interesting way to consume CBD and many people say that it is even better than the traditional ways of CBD consumption.
The problem of bioavailability is an important one, as it determines the effectiveness of CBD. If you take CBD in the form of an edible product, almost 90% of the CBD will be lost due to poor bioavailability. However, in the case of CBD water, the theory is that the CBD goes to wherever it needs to be.
Benefits Of CBD Water
CBD water allows for rapid bioavailability which increases the absorption of CBD. Some of the CBD water brands may be infused with antioxidants that can boost the immune system of the user. Reduced muscular pain and faster recovery time are some of the benefits of using CBD water. A majority of the manufacturers of CBD water add nearly 50 mg of CBD to each bottle of water. As the FDA does not regulate CBD, there is no data available about the optimal dose of CBD. However, you can rest assured that CBD water is nonpsychoactive and you will feel refreshed and energetic after drinking a bottle of CBD water.