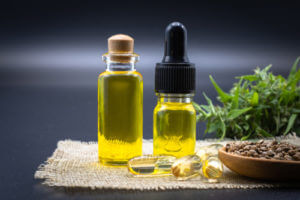 For a first-time user, it may appear easy to measure cannabidiol's strength. You might feel that looking at the label of the product will help find the amount of cannabidiol in it. However, there is no CBD dosage calculator that helps to find the precise strength of CBD in a product. Determining it is not easy because there are various cannabidiol products out there, categorized as 'Isolate', 'Broad-Spectrum', and 'Full-Spectrum'.
Furthermore, the labels of certain items make knowing precisely how strong these are or how powerful a dosage these offer difficult. So, one might start by taking the same amount of cannabidiol as mentioned on their product's label. The issue with this approach is that some brands are putting misinformation on their product labels. Now, imagine that a hemp CBD product label mentions an 'X' amount of cannabidiol and a 'Y' amount of THC. In this situation, what would you as a customer do if the real quantities are different?
There is no use wondering what to do after you have been possibly deceived by those brands. Recent investigations on cannabidiol have led to the discovery of the aforesaid misinformed CBD labeling situation. Investigators look at in what way laboratories measure cannabidiol's strength and how this relates to what is printed on that product's label.
"When you're talking about strength, you're talking about potency," told Adie Rae to the 'Weedmaps News website. "And that means how much CBD per volume." Rae, a Ph.D. holder in neuroscience and academic researcher, does research into cannabinoids.
One might possess two cannabidiol oils that come packaged in 30 ml bottles. Now, what if a product has 3,000 mg of cannabidiol in it and there is 6,000 mg of it in another one? In the aforesaid example, the latter product is the more potent of the two. Here, one would need to take two times more quantities of the former product to accomplish the same dosage as the latter. Now, imagine that the latter product comes at half the price of the former; if so, you would save a lot of money by choosing it.
From a laboratory technician's point of view, the process of finding out cannabidiol's strength appears slightly distinct. As per the Chief Executive Officer of the California-based BelCosta Labs, producers check for the strength at each supply chain phase. Manufacturers check hemp for cannabidiol's potency, then do the same when it becomes Rick Simpson Oil and at every single distillation phase. Cannabidiol producers perform the tests to confirm the consistency and quality of their products, plus the compliance of these with law. Still, the end product's checking decides what will be put on its label.